compact – keep it fresh
compact Kältetechnik GmbH is one of the leading manufacturers of energy-efficient, sustainable refrigeration machines.
Founded in 1992, compact Kältetechnik develops and manufactures customized refrigeration units for almost all applications – with all common synthetic refrigerants as well as the natural refrigerants CO2, NH3, Propane, etc. For more than 25 years, the reliable and sustainable compact solutions »Made in Germany« have been used successfully in the areas of food retail and processing, and commercial and industrial refrigeration. Our experts for refrigeration technology will be happy to advise you on customised solutions as well as on the proven compact standard solutions and energy concepts.
More than 100 team members are currently employed at our three company locations in Dresden, Scharfenstein (DE) and Katowice (PL), and work with passion and dedication for our customers.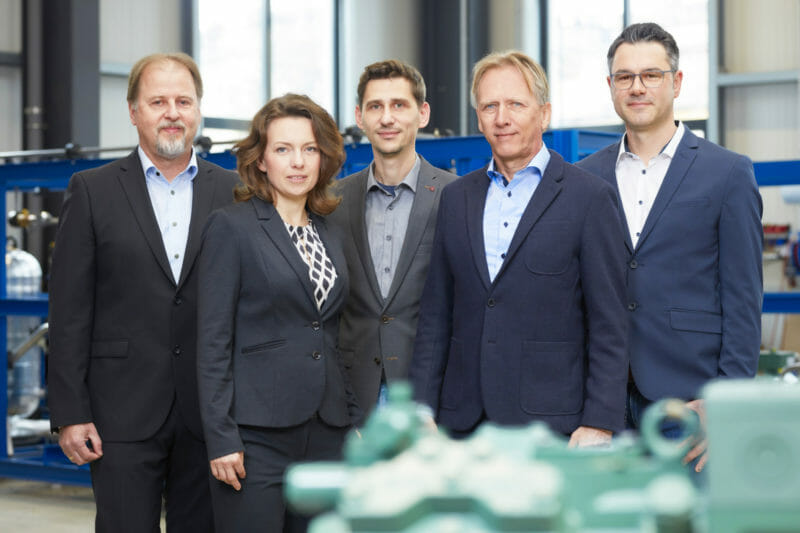 Managing Partners of compact Kältetechnik GmbH
Lutz Hering (CEO), Annett Gregor (Authorized Signatory, Head of Human Resources and Marketing), Peter Szalai (Branch Manager Scharfenstein), Frank Poschmann (Project Manager), Robert Lauth (CEO)
From the planning to the production of a refrigeration plant
We design and manufacture your refrigeration system – specially tailored to your individual application and performance range. You can rely on our expertise in the development of customized solutions for every requirement as well as on standard products that have been tried and tested in practice.
Get exclusive insights into our company in our image video.